Many of the gamers out there have been waiting for Fortnite to come up with a new patch or update. Now, several other leaks have popped up giving an early look at the new improved map. The leak happened thanks to VollMitBotox on Twitter. The user was able to get early access to the files that were encrypted on consoles.
What to expect from the new map in Fortnite?
The new map brings a lot to the table. Fans were most interested in 'The Ruins.' Many speculated that this could be connected to DC's Aquaman. Aquaman is one of the special hero skin in Chapter 2 of Season 3. Take a look at the leaked map below courtesy of Redditor gh0stly2.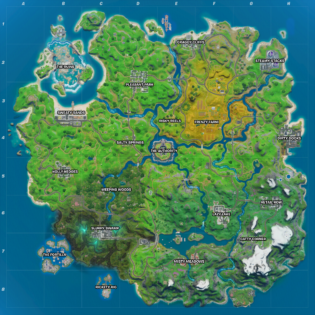 The connection does seem strong. To add to that, Aquaman is the defender of Atlantis, an underwater kingdom. This would be a great way to introduce the ruins. With water receding, the story could be that the lost city of Atlantis resurfaces.
For starters, the game is looking to improve mobility. Players will have access to different classes of vehicles with different health pools and speeds. Again for all those unaware, the water level in the map is slowly receding. Many of you already know that there are cars underwater. SypherPK will also be live streaming tomorrow as he waits for the level to come down.
At one point, water will dry out. This means there will be new areas and roads to explore. Players can move around the map with 4 different types of vehicles. They do come with a fuel tank, so you might need to make a quick stop to get your tank filled. Each car comes with speed boosts and different run times.
An added treat would be the reboot fans. Once the water level completely drops, players can easily access the reboot vans to bring dead teammates back into the game. All that is coming to the game, is certainly going to improve player morale, mostly because Epic Games have started listening to the community.