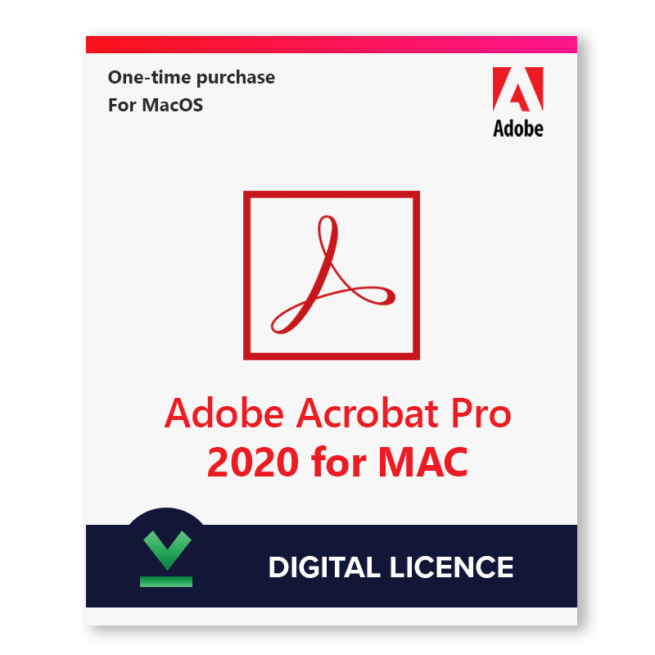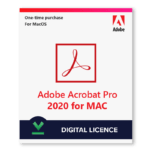 Adobe Acrobat Pro 2020 for Mac Digital Licence
23
people are viewing this right now

Guaranteed safe & secure checkout
Description
Buy Adobe Acrobat Pro 2020 for Mac for the best price at LicenceDeals. Order now and we will send you the Adobe Acrobat product key directly via e-mail within 1 hour of purchase. This is a perpetual digital licence.
Product Details
Brand: Adobe
Released on: 01-06-2020
Program type: Adobe Acrobat
Format: Single Use Digital Licence
Compatibility: 64-bit
Language: English
Description & Applications
Adobe Acrobat Pro 2020 is the latest perpetual version of the desktop solution for working with PDF files. It allows you to do all your PDF tasks with ease and comes with additional features meant to improve productivity. 
View MIP-protected PDFs, have fun with color customization in the Fill & Sign tool, run OCR on scanned documents with live text, and more with Acrobat Pro 2020. The new and improved Home view helps you stay organized by viewing both documents stored locally and on your cloud storage service, such as DropBox, OneDrive, and SharePoint. Simplify everyday PDF tasks and avoid the hassle of storing and working with paper documents with Adobe Acrobat Pro 2020 for Mac.
Features
The latest perpetual version of Acrobat gives you the latest innovations to help you stay productive and organized. Collaboration on documents is made easier and multiple features aim to streamline your workflow and cut down on time and effort spent managing and editing files.
► Convert documents and images into PDFs.
Adobe Acrobat 2020 allows you to easily convert Word, Excel, and PowerPoint documents-  and even JPEG images, – into PDFs. You can also convert PDFs into Word, Excel, and PowerPoint files while keeping the fonts and formatting.
► Scan paper to PDFs and match the fonts.
Scan paper documents directly into PDFs and immediately start editing them. Acrobat 2020 recognizes the original font, allowing you to make seamless additions and changes to the text.
► Collaborate on Documents.
The latest version of Acrobat makes collaboration easier and smoother. Multiple people can work on the same PDF, eliminating the need to send separate copies of files. Acrobat 2020 works across multiple devices as well.
► Stay organized with the new Home view.
Access your most recently opened files across different platforms and cloud storage, easily find the tools you need through the Recommended Tools feature, and minimize time spent looking for specific information in your documents thanks to the improved and powerful search box. The Context pane lets you take actions on files across all Home view with context-sensitive menus and track the status of participants and history of activities for shared documents.
► Forget about the hassle of paper-based signatures.
One of the most powerful features of Acrobat Pro is the ability to digitally sign and collect legally-binding e-signatures. This significantly decreases the effort needed to give out and collect documents and forms that require to be signed or filled out, while also allowing you to easily keep track of what has and has not been signed, filled out, or returned in real time. Avoid the hassle of printing out documents, signing them, and then scanning them with Acrobat Pro 2020.
► Improved Accessibility.
Acrobat 2020 has integrated improved accessibility features, making the program easier to use for people with disabilities both with and without assistive technology software and devices. 
Read more in our blog articles "Adobe Acrobat Pro Overview" and "Adobe Acrobat Pro and PDF Extra Comparison".
The initial activation of all purchased products should be performed no later than 3 months after the purchase date. Note that the initial activation period is not the warranty period of the product – all warranty details are thoroughly explained in the terms and conditions section.
System Requirements
‣ Required Processor: 1.5GHz processor or faster 
‣ Recommended Memory: 2 GB RAM or higher 
‣ Required Hard Disk Space: 2.75 GB for Mac OS
‣ Required Display: 1024 x 768 screen resolution or higher 
‣ Required Connectivity: Internet access (fees may apply); Safari 10.0 or 11.0 (browser plug-in for Safari supported on 64-bit Intel processor only)
‣ Operating System: macOS v10.13 and above.
If you have any further inquiries please do not hesitate to contact us!
There are no question found.
We are proud to offer a lifetime product warranty on all of our digital products. We understand that buying digital licenses can sometimes be unpredictable, and we want you to feel confident in your purchase for years to come.
Our lifetime product warranty covers any issues related to our license keys, so you can rest easy knowing that your purchase is protected. If you ever experience an issue with your product, simply contact us and we will be happy to provide technical support and assistance in resolving the issue. We are committed to providing exceptional customer service and ensuring that you are completely satisfied with your purchase.