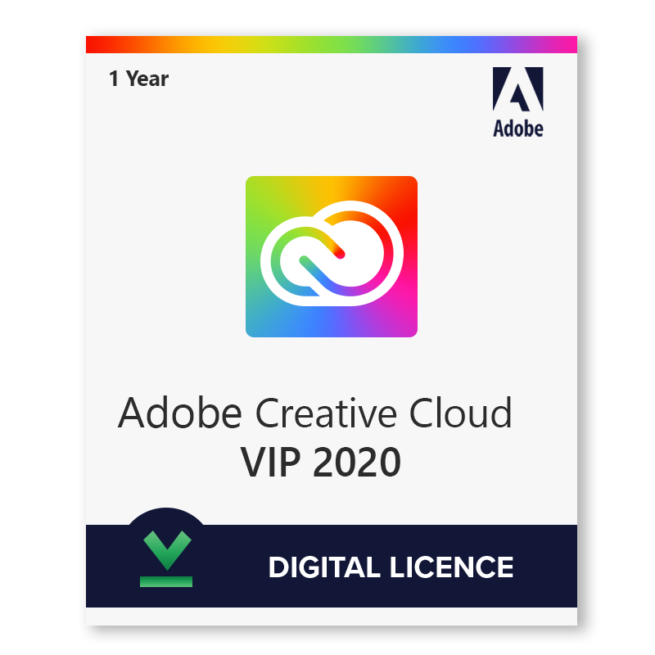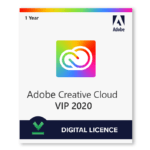 Adobe Creative Cloud 2020 VIP | 1 Year Digital Licence
20
people are viewing this right now

Guaranteed safe & secure checkout
Description
Buy Adobe Creative Cloud 2020 for the best price at LicenceDeals. Order now and we will send you the Adobe CC product key directly via e-mail within 8 hours of purchase. This is a 1 year digital licence.
Attention: This product is to be used only in European Economic Area countries, the United Kingdom and their overseas territories.
Product Details
Brand: Adobe
Released on: 01-06-2020
Program type: Adobe Creative Cloud
Format: Subscription
Compatibility: 64-bit
Language: 
You can choose from the following languages when using these products:
Adobe Gaming SDK: English
Adobe Muse: German, English, Spanish, French, Dutch, Swedish, and Japanese
Adobe PhoneGap Build: English and French
Adobe Photoshop Lightroom: German, English, Spanish, French, Italian, Dutch, Brazilian Portuguese, Swedish, Simplified Chinese, Traditional Chinese, Korean, Russian, Thai, and Japanese
Adobe Fonts: English, French, German, and Japanese
Adobe Web Hosting: German, English, Spanish, French, Dutch, Swedish, and Japanese*
Adobe Scout: English, French, Simplified Chinese, and Traditional Chinese
* Web Hosting is available in Japan, but the interface is a combination of English and Japanese languages.
Description & Applications
Adobe Creative Cloud 2020 is a subscription-based licence that gives you access to Adobe's most powerful creativity software, such as Photoshop, After Effects, Premiere Pro, and many more, for all your design needs. This year-long subscription hits the sweet spot in terms of what you pay and what you get.
Adobe CC 2020 offers you a full suite of professional-level creative tools that have become an industry standard. This subscription is the perfect solution for anyone who needs to use several different Adobe apps, as it gives you everything you need for design, photography, video & audio, and web & UX work. Adobe has software that covers the needs of the entire specter of users – from hobbyist creatives to pros.
Features
Adobe Creative Cloud 2020 ensures that you will always have the latest version of any Adobe app with all its bells and whistles. CC 2020 allows for cross-device syncing, cloud storage, and many other features any professional will be able to appreciate.
Photoshop
Photoshop is the world's best imaging and graphic design software, used by professionals everywhere. Adobe's move from perpetual to subscription-based licensing of their software ensures that you are always working with the latest versions of their applications and take full advantage of software advancements.
Indispensable for anyone working in a visual field, from photographers to web designers, Photoshop gives you all the tools you need to bring your ideas to life. CC 2020 finally offers this classic app for iPad users as well, meaning you can take your work on the go and get creative anywhere.
Illustrator
Millions of designers rely on Illustrator for their vector graphics work, creating iconic designs that stand the test of time. Whether you're designing a logo, working on product packaging, creating a billboard, or grabbing attention with typography, Illustrator allows you to unleash your creativity and stun your audience.
With Illustrator you can create scalable designs with seamless alignment by drawing pixel perfect shapes. The user-friendly interface gives you the freedom to work on your projects in the way that's most comfortable for you with the added bonus of being able to work on multiple artboards at the same time. Compared to similar software, Illustrator also manages to keep the working files' size comparatively small – an extremely useful feature for anyone who uses the program professionally.
Fresco
Fresco is the newest addition to the Adobe creative suite. Specifically tailored for the latest stylus and touch devices, Adobe Fresco offers a vast selection of vector and raster brushes, including live brushes, designed to recreate the experience of painting and drawing with traditional media. This app will be especially appreciated by artists, illustrators, animators, sketchers, and anyone who wants to combine the joy of creating art with the freedom and abilities the digital medium offers.
Tailoring the interface to your workflow with features such as customizing your UI for either left- or right-handed drawing and the option to switch to full-screen mode and stay focused on your canvas.
Premiere Pro
Video editing has never been easier than with Premiere Pro. Created by professionals for professionals, Premiere Pro is the industry favorite video editing software. User-friendly interface, easy collaboration through the integrated Creative Cloud service, and the ability to fine-tune the smallest of details make this program indispensable for creative departments across the globe.
With new features being introduced regularly, Premiere Pro is always getting better. Combined with the other programs in the Adobe CC suite, allows you to create commercial grade visuals bound to impress. Useful to both pros and newbies, Premiere Pro is a comprehensive video editing solution.
Dreamweaver
Dreamweaver is a smart and simplified coding engine that allows you to quickly set up beautiful and impressive websites. Create multi-platform responsive websites that work well across different screen sizes with Dreamweaver. Equally well suited for individual designers as well as for large-scale projects, the coding engine is fantastic for collaborating on tasks and is, of course, perfectly integrated with Adobe's other design and cloud services. While there might be a steep learning curve, the engine supports HTML, JAVA, CSS, and other standard coding languages and has an interface similar to Photoshop and Illustrator, so designers familiar with those programs will have an easier time adjusting to Dreamweaver. The real-time preview will be greatly appreciated by the visually oriented and useful coding tips will help reduce errors. Dreamweaver is the obvious choice for building corporate and design-heavy websites.
 
Adobe Creative Cloud 2020 also includes:
InDesign
Adobe XD
Acrobat DC
Premiere Rush
After Effects
Dimensions
Acrobat Pro
Animate
Audition 
Lightroom Classic
Character Animator
Spark
Bridge
Media Encoder
InCopy
Prelude
Substance
Fuse (Beta)
The initial activation of all purchased products should be performed no later than 3 months after the purchase date. Note that the initial activation period is not the warranty period of the product – all warranty details are thoroughly explained in the terms and conditions section.
System Requirements
‣ Required Processor: for Windows – Intel Core 2 Duo or AMD Phenom II processor; for Mac – Multicore Intel processor with 64-bit support,
‣ Recommended Memory: 4 GB RAM or higher 
‣ Required Hard Disk Space: 10.5 GB free space
‣ Required Display: 1024 x 768 screen resolution or higher 
‣ Required Connectivity: Internet access (fees may apply)
‣ Operating System: Microsoft Windows 10 (64-bit only) and later; Mac OS X v10.12 and later
If you have any further inquiries please do not hesitate to contact us!
There are no question found.
We are proud to offer a lifetime product warranty on all of our digital products. We understand that buying digital licenses can sometimes be unpredictable, and we want you to feel confident in your purchase for years to come.
Our lifetime product warranty covers any issues related to our license keys, so you can rest easy knowing that your purchase is protected. If you ever experience an issue with your product, simply contact us and we will be happy to provide technical support and assistance in resolving the issue. We are committed to providing exceptional customer service and ensuring that you are completely satisfied with your purchase.