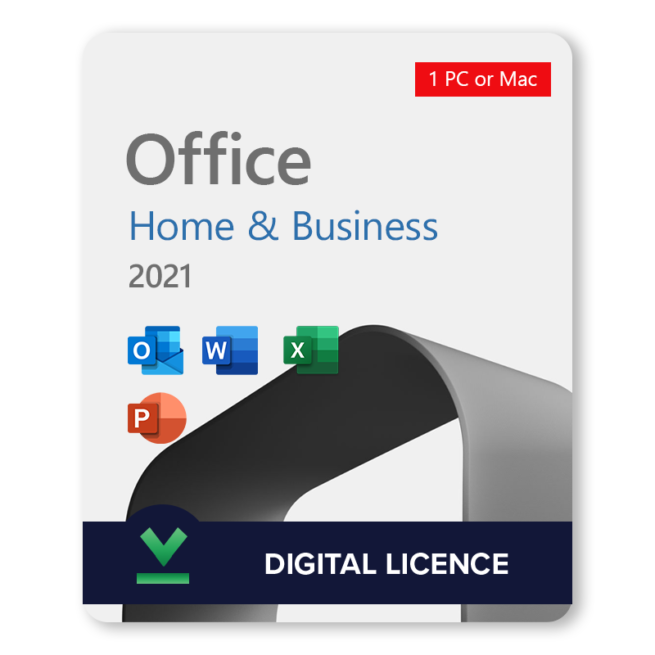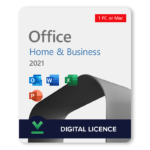 Microsoft Office 2021 Home and Business PC/Mac Transferable Digital Licence
26
people are viewing this right now

Guaranteed safe & secure checkout
Description
Buy Office 2021 Home and Business transferable digital licence for the best price at LicenceDeals. Order now and we will send you the Office 2021 product key directly via e-mail.
Transferable Licence
This type of Office 2021 licence is connected to your Microsoft account. It can be easily re-installed into another PC when needed, without buying a new licence.
IMPORTANT: You will receive a redeem code that generates a license through your Microsoft account. Once this code is redeemed, a license key (different from the one you received from us) will be assigned to your account for the activation of the product. The license key can be found in the Services and Subscriptions section of your Microsoft Dashboard.
Product Details
Brand: Microsoft
Released on: 05-10-2021
Program type: Office Suite
Format: Transferable Digital Licence
Compatibility: 32-bit and 64-bit
Language: EU Multilingual (it is possible to change language settings after installation; additional language packs are also available to be downloaded and installed separately)
Includes: Outlook, Word, Excel, PowerPoint, OneNote, OneDrive.
Description & Applications
Office 2021 Home and Business gives you the latest on-premises versions of the core Office apps plus email so you can get it all done. Take advantage of the powerful updates to Word, PowerPoint, Excel and Outlook with the added bonus of an updated visual experience. 
Office 2021 Home and Business is here to meet the needs of home users and small businesses. This one-time purchase will help you work faster and communicate more effectively thanks to a host of improvements, most notably in the area of collaboration. From working with complicated text documents and data-heavy spreadsheets, to crafting an impressive presentation and hosting your own email – Office 2021 lets you do it all.
‣ Microsoft Outlook 2021
Outlook 2021 gives you more tools like Search at Top and Translator to better manage your inbox. The powerful Translator lets you translate messages into more than 70 languages on the go without leaving Outlook with the new translation feature. Microsoft is always adding more rich media to the Office Premium Creative Content collection, so keep an eye out for new stock media to better express yourself. Keep your inbox organized with Outlook's Focused Inbox, manage your calendar and share files with ease.
‣ Microsoft Word 2021
Office 2021 allows you to collaborate on documents in real-time and notifies you when files are updated. You will also be able to see who is working on the document you have opened and where in the document they are currently. Text accessibility is improved with Line Focus; it lets you go through documents line by line without distractions. A significant new feature is OpenDocument format (ODF) 1.3 support.
‣ Microsoft Excel 2021
The classic spreadsheet software program equips you with powerful data visualization and analysis tools. Use Excel 2021's new XLOOKUP to search tables and ranges row by row and expedite calculations with 6 new formulas. You can now create customized views without affecting how others see the document and have all your most important tools organized within the Accessibility ribbon.
‣ Microsoft PowerPoint 2021
With a host of new features and improvements to old ones, PowerPoint 2021 is better than ever. It now supports presenter video recording, ink recording, and laser pointer recording. Enjoy more control features with your animations and add a hand drawn look with the Sketched style outline. Working on a presentation with others has never been easier thanks to improved control over the commenting experience and a host of new features helps you deliver better presentations faster.
‣ Microsoft OneNote 2021
Your personal digital notebook, OneNote allows you to type, write or draw notes and insert images, audio or video clips from the web. OneNote is available online and syncs up with your other devices. OneNote 2021 lets you browse through your notes with the Feed and introduces a feedback function for easier collaboration. More options for customizing the interface are also available.
Features
► Co-author documentsCollaborate on documents with your team members in real-time and get notified when changes are made. Work faster and streamline your communication with Office 2021.
► Translate emailsTake advantage of Outlook's new translating feature and translate messages from more than 70 languages without leaving Outlook!
► Updated designEnjoy a modernized Start menu and new tabs in the ribbon. The new design features rounded corners, a neutral palette, and cleaner style for a more pleasant visual experience.
► Find anything with XLOOKUPExcel's new XLOOKUP features allows you to search your tables and ranges row by row easily and quickly.
► Improved performanceGet more done faster thanks to improved performance, stability, and speed across Word, Excel, Powerpoint, and Outlook. 
► Office 2021 now supports Hex colorsGone are the days of converting your hex color values into RGB and you can now find the perfect hue when you need it. 
Learn more in our blog article "Should you upgrade to Office 2021".
The initial activation of all purchased products should be performed no later than 3 months after the purchase date. Note that the initial activation period is not the warranty period of the product – all warranty details are thoroughly explained in the terms and conditions section.
System Requirements
PC
‣ Required Processor: 1.1 gigahertz (GHz) or faster, 2-core‣ Recommended Memory:  4 GB RAM (64-bit)‣ Required Hard Disk Space: 4 GB free space‣ Required Display: 1280 x 768 screen resolution or higher ‣ Required Graphics Card: DirectX 9 or later, with WDDM 2.0 or higher‣ Required Connectivity: Internet access (fees may apply) ‣ Browser: Current version of Internet Explorer, Microsoft Edge, Safari, Chrome, or Firefox‣ Operating System: Windows 10, Windows 11‣ Other: Microsoft Account
MAC
‣ Required Processor: Intel or Apple Silicon‣ Recommended Memory:  4 GB RAM‣ Required Hard Disk Space: 10 GB of available disk space‣ Required Display: 1280 x 800 screen resolution ‣ Required Graphics Card: No graphics requirements‣ Required Connectivity: Internet access (fees may apply)‣ Other: Microsoft Account‣ Operating System: the three most recent versions of macOS ‣ Browser: Current version of Internet Explorer, Microsoft Edge, Safari, Chrome, or Firefox 
If you have any further inquiries please do not hesitate to contact us!
There are no question found.
We are proud to offer a lifetime product warranty on all of our digital products. We understand that buying digital licenses can sometimes be unpredictable, and we want you to feel confident in your purchase for years to come.
Our lifetime product warranty covers any issues related to our license keys, so you can rest easy knowing that your purchase is protected. If you ever experience an issue with your product, simply contact us and we will be happy to provide technical support and assistance in resolving the issue. We are committed to providing exceptional customer service and ensuring that you are completely satisfied with your purchase.