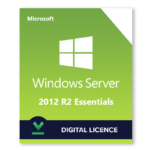 Microsoft Windows Server R2 2012 Essentials – Retail Licence
29
people are viewing this right now

Guaranteed safe & secure checkout
Description
If you need to purchase five or more licences, we offer personalised offers.
Buy Microsoft Windows Server Essentials R2 2012 for your small business of up to 25 users. Experience the benefits of cloud services and satisfy your core business needs without all the downfalls of adopting new technology. Order now and we will send you the Microsoft Windows Server Essentials R2 2012 product key directly via e-mail within 8 hours of your purchase.
Product Details
Brand: Microsoft
Released on: 18-10-2013
Program type: Windows Server
Format: OLP Volume Licence
Compatibility: 32-bit and 64-bit
Language: EU Multilingual (it is possible to change language settings after installation; additional language packs are also available to be downloaded and installed separately)
Description
Microsoft Windows Server Essentials R2 2012 allows for up to 25 users or 50 devices on one server with greatly improved data protection capabilities. This version of the software is designed to give you the flexibility to choose which applications and services run on-site and which are cloud-based. With secure Remote Web Access allows you and your team members to work from anywhere with an internet connection. Server Essentials R2 2012 also works with mobile devices, which is increasingly relevant as tablets are used for work more and more.
Features
► Group policy
Improve startup times on machines that are disconnected from the company network with the new "Policy Cache" setting. It allows domain-joined machines to store a copy of the group policy settings on the client machine and, depending on the speed of access to the domain controller, use those at startup time instead of waiting for the policy settings to download.
► Client Full System Restore
Now supported by Windows Deployment Services (WDS).
► Automated Tiering
Storage Spaces stores most frequently accessed files on fastest physical media.
► IP Address Management (IPAM)
Get fine-grained control over which users can view or change configurations for DHCP reservations, scopes, IP address blocks, DNS resource records, etc. Additionally, IPAM can integrate with System Center Virtual Machine Manager 2012 R2 to have coordinated IP policy across both physical and virtual environments.
► Faster VM deployment (approximately half the time)
The Legacy Network Adapter device is no longer required (or even supported) by Generation 2 virtual machines and the SCSI controller performs much better than the legacy IDE controller in the previous generation of virtual machines.
The initial activation of all purchased products should be performed no later than 3 months after the purchase date. Note that the initial activation period is not the warranty period of the product – all warranty details are thoroughly explained in the terms and conditions section.
System Requirements
‣ Required Processor: 1.4 GHz (64-bit processor) or faster for single core; 1.3 GHz (64-bit processor) or faster for multi-core ‣ Recommended Memory: 2 GB RAM (32-bit); 4 GB RAM (64-bit) ‣ Required Hard Disk Space: 2 GB free space ‣ Required Hard Disk Space Deployed as a Virtual Machine: 4 GB ‣ Required Display: Super VGA (800×600) monitor or higher ‣ Required Graphics Card: DirectX 9 or later, with WDDM 2.0 or higher for Windows 10 (or WDDM 1.3 or higher for Windows 10 Fall Creators Update). ‣ Required Connectivity: Internet access (fees may apply) ‣ Operating System: Windows 8.1, Windows 8, Windows 7, Macintosh OS X versions 10.5 to 10.8.
Microsoft
Microsoft Corporation is an American multinational technology corporation producing computer software, consumer electronics, personal computers, and related services.
There are no question found.
Warranty
We are proud to offer a lifetime product warranty on all of our digital products. We understand that buying digital licenses can sometimes be unpredictable, and we want you to feel confident in your purchase for years to come.
Our lifetime product warranty covers any issues related to our license keys, so you can rest easy knowing that your purchase is protected. If you ever experience an issue with your product, simply contact us and we will be happy to provide technical support and assistance in resolving the issue. We are committed to providing exceptional customer service and ensuring that you are completely satisfied with your purchase.