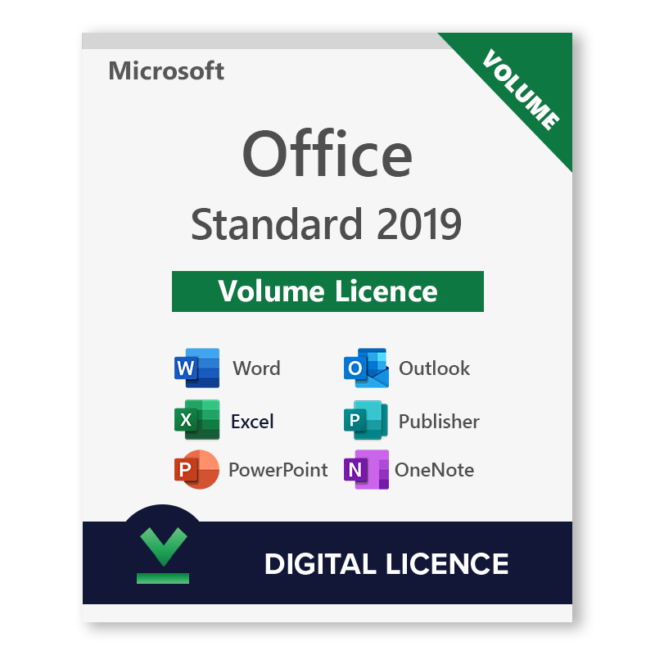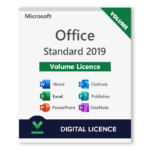 Microsoft Office 2019 Standard Volume Licence – Digital Licence
25
people are viewing this right now

Guaranteed safe & secure checkout
Description
Buy the Microsoft Office 2019 Standard Volume Licence for the best price at LicenceDeals and get all the essentials for your business. Order now and we will send you the Office 2019 Standard product key directly via e-mail. 
This licence product includes ONE activation only. If you want to order more activations, please select the exact quantity from above or contact us at: sales@licencedeals.com
If you need to purchase five or more licences, we offer suites that are available through volume licensing. We offer two options of volume licences: OLP and MAK. With OLP licence you receive a single licence key and will be able to create and manage multiple accounts through a KMS (Key Management Service), which allows organizations to activate systems within their own network. With MAK (Multiple Activation Key) licence you will receive a single licence key that can activate the software on multiple devices. Each MAK has a predetermined number of allowed activations, based on your volume licensing option and activates systems on a one-time basis, using Microsoft's hosted activation services.
In our online store you can purchase MAK licence, if you are interested in OLP licences, please contact us via email: sales@licencedeals.com
Product Details
Brand: Microsoft
Released on: 24-09-2019
Program type: Office Suite
Format: Volume Licence
Compatibility: 32-bit and 64-bit
Language: EU Multilingual (it is possible to change language settings after installation; additional language packs are also available to be downloaded and installed separately)
Includes: Outlook, Word, Excel, PowerPoint, Publisher and OneNote.
Description & Applications
Microsoft Office 2019 Standard gives you the latest version of the essential Office apps so you can get everything done with ease. From creating a complex presentation on PowerPoint to getting your data organized in an Excel spreadsheet, this Office solution has all the tools you need to be efficient and productive. All the programs have been updated to offer you even more features, such the Focused Inbox in Outlook, more formulas in Excel, improved PowerPoint editing features and more.
The enhanced performance of the core Office programs makes for a better user experience that will optimize your workflow in a business environment. Reduce costs and improve security with Microsoft Office 2019 Standard.
‣ Microsoft Outlook 2019
Send, receive and manage your emails in more efficient manner with Outlook 2019. Outlook grants you access to all stored contacts and e-mail addresses providing you with an ability to keep information about partners and customers up-to-date. Moreover, improved app gives you more possibilities with updated contact cards, @mentions, Focused Inbox, Travel Package cards and more. To minimize your workload even more you can schedule meetings in different time zones, listen to your emails, automatically download cloud attachments and set reminders to pop-up over the windows you are working in.
‣ Microsoft Word 2019
Create, edit and manage professional text documents in Word 2019. With new tools for translating, easier reading and more natural writing, you can improve your ability to communicate and absorb information. New integration of SVG, support for LaTeX syntax, Microsoft Translator, Learning Tools enhance your productivity. Documents are now easier to find and more convenient to navigate with book-like flipping features and Side to Side view.
‣ Microsoft Excel 2019
Create and manage tables and engage in more powerful data analysis with Excel 2019. In this version, Excel offers tables of all kinds from accounting and product databases. Among other things, new impressive features and functions, such as formulas, map and funnel charts, enhanced visuals, publishing to Power BI, new themes, precision selecting and more provides you with new methods to display data in an appealing way. Moreover, enhanced visuals, ink improvements, easier sharing and better accessibility features allow you to save time while enjoying familiar work flow.
‣ Microsoft PowerPoint 2019
Create more sophisticated and visually appealing to capture your audience's attention with PowerPoint 2019. The newest version of well-known tool comes improved visual effects, such as Morph Transition, Text Highlighter, Zoom capabilities. It also allows you to make your presentations more dynamic with 3-D models, background removal, export to 4K, Ultra-HD recording features and more.
‣ Microsoft OneNote
Your personal digital notebook, OneNote allows you to type, write or draw notes and insert imaged, audio or video clips from the web. OneNote is available online and syncs up with your other devices. Allowing you to access, update or create new notes from where ever you are. There is no updated 2019 version, but OneNote 2016 is available for Office 2019.
‣ Microsoft Publisher 2019
Create professional and visually impactful publications using simple tools with Publisher 2019. New version increases the possibilities for publishing graphics of any kind – for presentations, advertising, flyers, newsletters, magazines and more. Moreover, choose to publish in any way that best suits your audience: email, PDF, XPS, or high quality prints.
 
Features
► Virtual Desktop Infrastructure (VDI)
► Group policy
► Volume activation
► Scalable Vector Graphics (SVG) in Word, PowerPoint and Excel
► Terminal service
►  Convert ink to shapes, write out complex math problems, highlight text, and more. Use a finger, pen, or even a mouse across all apps
► App telemetry
Read more in our blog article "Volume Licensing: Your Key To Business Optimisation".
The initial activation of all purchased products should be performed no later than 3 months after the purchase date. Note that the initial activation period is not the warranty period of the product – all warranty details are thoroughly explained in the terms and conditions section.
System Requirements
‣ Required Processor: 1.6 gigahertz (GHz) or faster, 2-core ‣ Recommended Memory:   2 GB RAM (32-bit); 4 GB RAM (64-bit) ‣ Required Hard Disk Space: 4 GB free space ‣ Required Display: 1280 x 768 screen resolution or higher  ‣ Required Graphics Card: DirectX 9 or later, with WDDM 2.0 or higher for Windows 10 (or WDDM 1.3 or higher for Windows 10 Fall Creators Update) ‣ Required Connectivity: Internet access (fees may apply)  ‣ Other: Microsoft Account‣ Operating System: Windows 11, Windows 10, Windows 10 LTSC 2021, Windows 10 LTSC 2019, Windows Server 2022, Windows Server 2019
If you have any further inquiries please do not hesitate to contact us!
There are no question found.
We are proud to offer a lifetime product warranty on all of our digital products. We understand that buying digital licenses can sometimes be unpredictable, and we want you to feel confident in your purchase for years to come.
Our lifetime product warranty covers any issues related to our license keys, so you can rest easy knowing that your purchase is protected. If you ever experience an issue with your product, simply contact us and we will be happy to provide technical support and assistance in resolving the issue. We are committed to providing exceptional customer service and ensuring that you are completely satisfied with your purchase.