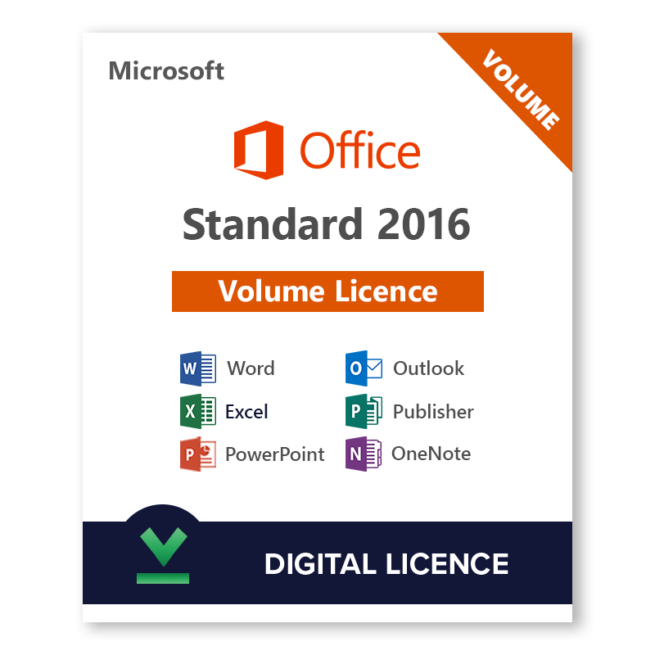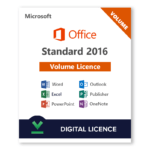 Microsoft Office 2016 Standard Digital Volume Licence
28
people are viewing this right now

Guaranteed safe & secure checkout
Description
If you need to purchase a larger amount of licences we offer suites that are available through volume licensing. Buy Office 2016 Standard Volume Licence for the best price at LicenceDeals. Order now and we will send you the Office 2016 Standard product key directly via e-mail. 
This licence product includes ONE activation only. If you want to order more activations, please select the exact quantity from above or contact us at: sales@licencedeals.com
We offer two options of volume licences: OLP and MAK. With OLP licence you receive a single licence key and will be able to create and manage multiple accounts through a KMS (Key Management Service), which allows organizations to activate systems within their own network. With MAK (Multiple Activation Key) licence you will receive a single licence key that can activate the software on multiple devices. Each MAK has a predetermined number of allowed activations, based on your volume licensing option and activates systems on a one-time basis, using Microsoft's hosted activation services.
In our online store you can purchase MAK licence, if you are interested in OLP licences, please contact us via email: sales@licencedeals.com
Product Details
Brand: Microsoft
Released on: 15-01-2016
Program type: Office Suite
Format: Volume licence
Compatibility: 32-bit and 64-bit
Language: EU Multilingual (it is possible to change language settings after installation; additional language packs are also available to be downloaded and installed separately)
Includes: Outlook, Word, Excel, PowerPoint, OneNote, Publisher, Office Online.
Description & Applications
Volume licences are a perfect solution to cater small businesses needs for Office Applications. Designed to maximize the productivity within your team Microsoft Office 2016 Standard is only available through volume licensing channels. The suite allows multiple users to easily access and work together on a document simultaneously and helps to optimize your workflow and cut down on time in an active business environment. Team members can also access files from a PC, tablet, or a smartphone device, making working on the go easy and effective.
Increase your productivity in business environment with Microsoft Office 2016 Standard volume licence. Make team collaboration simpler by allowing multiple people to access same document at the same time through a wide range of devices – PC, tablet as well as smartphones offline and online. Manage your time efficiently with a clear user interface and other improvements of the Office 2016 apps. From easier readability of Word documents on screen, PDF back-conversion, ability to visualize data in Excel, to intelligent guidelines – all these and more new features promote productivity without the limitations of location or time for the users.
‣ Microsoft Outlook 2016 
Stay connected and productive with a clear overview of your email, calendar and contacts. Plan meetings, share information and collaborate efficiently with Outlook's easy to use interface and features. Microsoft Outlook 2016 is available on any device, allowing you to always be connected whether you're on your phone, tablet or apple device.
‣ Microsoft Word 2016
Creating professional documents has never been easier. Microsoft Word's amazing proofing tools allow you to edit, structure and review your work with ease. Word 2016 comes with PDF compatibility and innovative sharing methods allowing you to work and share as efficiently as possible.
‣ Microsoft Excel 2016 
Organize and create comprehensive spreadsheets or workbooks with Excel. Microsoft Excel's extensive options and features let you to illustrate your data patterns in detailed charts and graphs and perform in depth analyses by using the wide variety of formulas available. Allowing you to create informed decisions and accurate forecasts.
‣ Microsoft PowerPoint 2016
Create impactful presentations and captivate your audience with PowerPoint. Look like a professional using PowerPoint templates and themes to design the presentation that suits you best. PowerPoint also comes with a variety of animations transitions and other features that allows you to present everything you want in the exact way that you want.
‣ Microsoft OneNote 2016 
Your personal digital notebook, OneNote allows you to type, write or draw notes and insert imaged, audio or video clips from the web. OneNote is available online and syncs up with your other devices. Allowing you to access, update or create new notes from where ever you are.
‣ Microsoft Publisher 2016
Create high quality, personalised and professional publications with Microsoft Publisher. Publisher uses simple tools to make complex changes to pictures with amazing features and effects at your disposal. Publisher 2016 comes with a innovative sharing methods, allowing you to effortlessly show or send your publications to whoever you want.
Features
► Virtual Desktop Infrastructure (VDI) ► Remote Desktop Services (RDS) ► Group policy ► Volume activation           ► Terminal service                             ► App telemetry
► Office 2016 follows you. OneDrive allows you to save all your work and pick up where you left off from anywhere you want.
► Promotes teamwork.Sharing your work has been simplified to a simple click of a button and co-authoring in Word, PowerPoint and OneNote is easier than ever with improved functions and features.
► Enhanced integration.Office 2016 comes with new and improved integrated features from Bing, Cortana and Tell Me. Allowing you to browse the web, prepare for meetings and find out how to carry out what you want to do in Word, Excel and PowerPoint.
The initial activation of all purchased products should be performed no later than 3 months after the purchase date. Note that the initial activation period is not the warranty period of the product – all warranty details are thoroughly explained in the terms and conditions section.
System Requirements
‣ Required Processor: 1 GHz or faster processor with SSE2 ‣ Recommended Memory:  1 GB RAM (32-bit) and 2 GB RAM (64-bit) ‣ Required Hard Disk Space: 3 GB free space ‣ Required Display: 1024 x 768 screen resolution or higher  ‣ Required Graphics Card: DirectX 10 graphics processor  ‣ Required Connectivity: Internet access (fees may apply)  ‣ Operating System: Windows 11, Windows 10, Windows 8.1, Windows 10 LTSB 2016, Windows 10 LTSB 2015, Windows Server 2016, Windows Server 2012 R2, or Windows Server 2012
 If you have any further inquiries please do not hesitate to contact us!
There are no question found.
We are proud to offer a lifetime product warranty on all of our digital products. We understand that buying digital licenses can sometimes be unpredictable, and we want you to feel confident in your purchase for years to come.
Our lifetime product warranty covers any issues related to our license keys, so you can rest easy knowing that your purchase is protected. If you ever experience an issue with your product, simply contact us and we will be happy to provide technical support and assistance in resolving the issue. We are committed to providing exceptional customer service and ensuring that you are completely satisfied with your purchase.