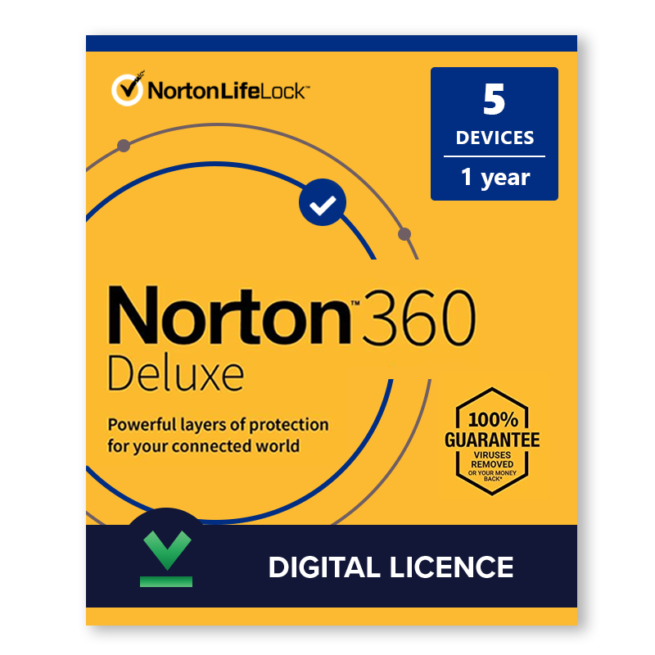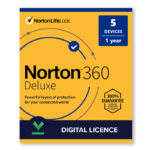 Norton 360 Deluxe 5 Devices | 1 Year – Retail Licence
30
people are viewing this right now

Guaranteed safe & secure checkout
Description
Buy Norton 360 Deluxe – 5 users, 1 year for the best price at Procdkey. Order now and we will send you the 360 Deluxe product key via e-mail, within 8 business hours.
Attention: This product is to be used only in European Economic Area countries, the United Kingdom and their overseas territories.
Product details
Brand: Norton
Program type: Total security
Format: Digital Licence
Compatibility: 32-bit and 64-bit
Language: Multilingual
Description
Norton 360 Deluxe is a comprehensive protection for your PC, Mac or mobile device, and provides online family safety features, for you and the people you care about. The Parental Control feature allows you to keep track of your children both online and offline by means of the GPS tracker and the "online GPS tracker" that shows you what videos they are watching, apps they are downloading, and websites they're visiting. Norton 360 Deluxe is also one of the few antivirus that includes an unlimited VPN for free.
Norton 360 Deluxe helps to provide real time protection toward existing and emerging malware, ransomware and viruses, keeping your private as well as financial information safe every time you go online.
Features
‣ See more, analyse more and stop more online threats with Norton 360 Deluxe.
It does not take long for malware to infect your brand new computer, especially when using inferior security software.
Cybercriminals have become more sophisticated than ever before; a diverse arsenal of tools is being used to gain access to your personal information. Substandard security software does not possess the resources to keep up with new threats as they emerge.
However, Norton 360 Deluxe does. The worse the threats get, the better the Norton Security gets. Norton Security continuously develops new ways to protect your devices.
‣ Norton focuses solely on security.
Norton 360 Deluxe's core value is to offer protection for all your devices, regardless of type, without you worrying about what takes place in the background. To sum it up: choose what devices to safeguard and go about your business. Norton will take care of the rest.
‣ Norton 360 Deluxe multi-device, multi-OS protection helps keep your data safe, no matter where it is.
The more connected you are and the more personal information is available online, the more protection and security you need.
Do you watch videos or shop on your tablet, use your smartphone to pay bills or check your balances? Then chances are that your personal information is in multiple places. With Norton 360 Deluxe you can keep your information private across all of them.
Norton 360 Deluxe delivers an easy solution to protect your computers, smartphones and tablets, even on multiple operating systems: Windows, Mac, Android and iOS and Windows 10.
The initial activation of all purchased products should be performed no later than 3 months after the purchase date. Note that the initial activation period is not the warranty period of the product – all warranty details are thoroughly explained in the terms and conditions section.
System Requirements
‣ Operating Systems: Windows 10 except Windows 10 S, Windows 8/8.1* (all versions), Windows 7 (all versions) with Service Pack 1 (SP 1) or later, Windows Vista** (all versions) with Service Pack 1 (SP 1) or later, Windows XP*** (32-bit) Home/Professional with Service Pack 3 (SP 3) or later, Current and previous two versions of Mac OS, Android**** 4.0.3 or later. (Must have a Google Play app installed).
‣ Required Connectivity: Internet access
*Some protection features are not available in Windows 8 Start screen browsers.
**New features are no longer supported on Windows Vista operating systems. Password Manager browser extension is no longer supported on Windows Vista.
***New features are no longer supported on Windows XP. Password Manager browser extension is no longer supported on Windows XP.
****Samsung devices running Android 4.2 or later are supported.
Norton
Norton AntiVirus is an anti-virus or anti-malware software product founded by Peter Norton, developed and distributed by Gen Digital since 1990 as part of its Norton family of computer security products. It uses signatures and heuristics to identify viruses
There are no question found.
Warranty
We are proud to offer a lifetime product warranty on all of our digital products. We understand that buying digital licenses can sometimes be unpredictable, and we want you to feel confident in your purchase for years to come.
Our lifetime product warranty covers any issues related to our license keys, so you can rest easy knowing that your purchase is protected. If you ever experience an issue with your product, simply contact us and we will be happy to provide technical support and assistance in resolving the issue. We are committed to providing exceptional customer service and ensuring that you are completely satisfied with your purchase.