How to redeem on Steam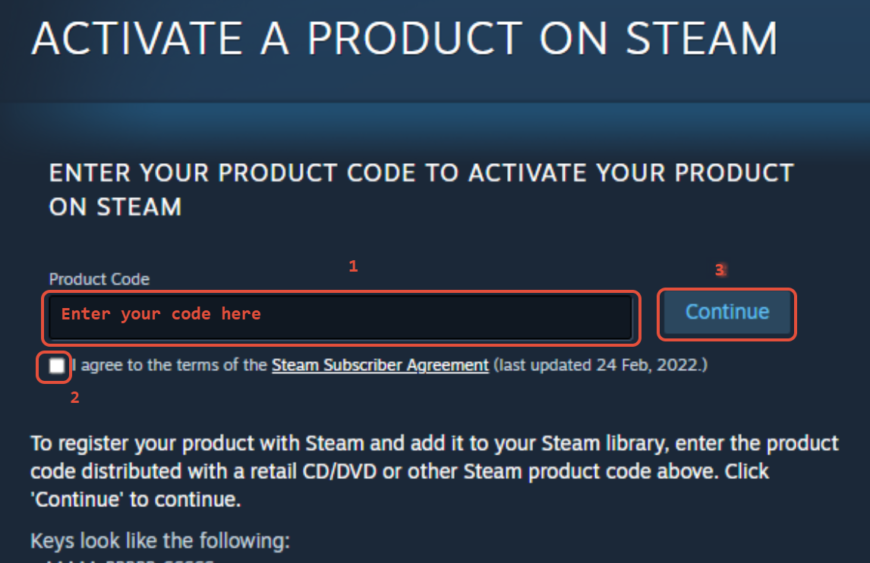 Steam Client


1. Launch the Steam client and log in to your Steam account. (If you don't have it, download and install it from here)
2. On the lower-left corner, click on Click + ADD A GAME, then select Activate a Product on Steam…
3. A Product Activation window will pop up, just click Next.
4. Read the Agreement, and click I Agree
5. Enter the Steam game code and hit Next.
6. Click Finish.
At this point, you can choose to download/install the game on your PC now or do it at a later time. You will find your game in your Steam Library.
Steam Website


1. Go to Activate a Product on Steam, make sure you are already logged in to your Steam account.
2. Enter your Steam product code on the space provided, tick the I agree box, then click Continue.
3. The game will now be added to your Steam Library.
For Steam pre-loaded accounts
1. Launch Steam Client using the Steam credentials sent to your email address. (If you don't have it, download and install it from here)
2. To get the verification code, log in to the Email Login URL here using the Email Credentials sent to your email address and type the verification code on Steam.
To help you enable Steam Family Sharing and to play this game on your main Steam account, please follow the instructions in this video.
NOTE: Due to technical limitations, some Steam games may be unavailable for sharing. For example, titles that require an additional third-party key, account, or subscription in order to play cannot be shared between accounts.

You now have 100% ownership of this account, feel free to change all personal details on this account. We can add more games to your account for cheap prices in the future. Just let us know which Steam game you would like to buy and we will make a custom offer for you.
Having trouble redeeming your code? Check out the Fix Common Errors for Steam.